THE WOMEN OF THE ARTS CLUB OF FORT WORTH

WELCOMES YOU TO OUR WEBSITE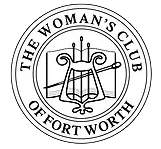 Greetings Artists,
This is an amazing year for the WC Art Department and Women of the Arts.  So many new schedules, workshops & tours.  We have much to look forward to every week.  We hope you will enjoy the opportunities that your board has worked hard to provide.  Your early registrations help make the events possible.  Be an active member and contributor today.  We will have an opening celebration in September; be watching for the details. Bring a friend and show them how amazing our group has become!
Victoria Ridge, Chair Art Dept,
Cindi Neverdousky, President 
                   Women of the Arts
3-Day Workshop
with Laurin McCracken
6/13/2022 - 6/15/2022
THE WOMAN'S CLUB OF FORT WORTH
The Carriage House Art Studio
1316 Pennsylvania Ave
Fort Worth, TX
WOMEN OF THE ARTS PRESENTS
DEREK PENIX - 3 DAY WORKSHOP
Learn the secrets from the #1 award winning artist in the Country Oil Painting Workshop
September 1-3, 2022
9:00 - 3:30

$550
CLASSES SPRING 2022
Class schedules have changed.  We now have shorter sessions and with a great deal of variety.  In addition, you can register and pay for your class 30 days prior to the session.  Think about taking Watercolor, Mixed Media, Book Art, Pin, and Ink, Beginning Oil through Advanced.  There is a class or two for you!