THE WOMEN OF THE ARTS CLUB OF FORT WORTH

WELCOMES YOU TO OUR WEBSITE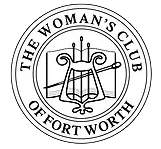 Greetings to our Art Department/Women of the Arts members and prospective members:
Established in 1923, this Fort Worth treasure has been broadening the vision and skills of its members for a Century! For the past 100 years, the Art Department has been a place for women to express their artistic talents through instruction and experience, meeting in the converted carriage house studio at The Woman's Club of Fort Worth.
This will be an amazing year for The Fort Worth Woman's Club, its Art Department and Women of the Arts Club as we prepare to celebrate 100 years of supporting women in the arts.   What an ideal time to become an active member by participating in the celebrations!  With so many new class schedules, workshops, lectures and tours, as well as opportunities to show your art through annual art shows, gallery tearoom showings, Art in the Garden and Adventures Holiday Show & Sale, there has never been a better time to belong.
Susie Monzingo, Chair Art Dept,
Carol Dial, President 
                   Women of the Arts
Michael Holter Watercolor Landscape Workshop
March 18, 19, 20, 2024
9:00-3:45
Art Studio of the Woman's Club of Fr. Worth
1316 Pennsylvania Ave. 76104
Art Club $400.00
Non-Members $475.00
Chuck Mauldin
Painting animals in the landscape
March 21-22 , 2024 
9:00-3:45
www.chuckmauldin.com
Art Club  $200.00
Non-Members  $225.00